When:
October 28, 2023 – November 11, 2023
all-day
2023-10-28T00:00:00-04:00
2023-11-12T00:00:00-05:00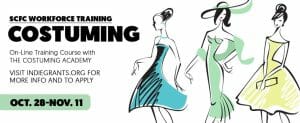 COSTUMING with The Costuming Academy
Oct. 28: Virtual Start-up (approx. one hour)
Oct. 28-Nov 10: Independent Completion of Five Virtual Courses
Nov. 11: Wrap-Up/Q&A/Mentoring (approx. two-hours)
The South Carolina Film Commission has teamed up with The Costuming Academy for a comprehensive, virtual training on the production industry Costume Department. Upon completion, trainees will leave with first-day confidence, knowing the language of a Costumer and understand the skills being used, whether they're starting as a PA or an Entry-level Costumer.
The curriculum has been created by Costume veterans Donna Schultz and Sharon Sampson, opening a window into the wealth of knowledge available from industry professionals like themselves. Donna and Sharon will lead participants throughout the process, with a live orientation at the start of the course (via Zoom), a live Q&A/Mentor session at the completion of the modules (via Zoom), and six months of access to the TCA community, where they can continue to ask questions and network.
The five courses cover:
Unions & Productions (full overview of every production department and how costumers works with each one)

Entry Level Costumer (what you need to know to get started)

Set Protocol for Costumers

Shopping and Returns

Tools of the Trade
CLICK HERE TO CHECK ELIGIBILITY AND TO APPLY
Applications due Oct. 20.
About Donna Schultz
Donna Schultz has led a distinguished career in key positions within the Costuming world on projects such as Big Little Lies, Westworld, Mrs. Davis, and Shazam 2. Beginning in theater 35 years ago, she focused her talents on such specialties as costume manufacturing, touring globally with Michael Jackson and Sheryl Crow.
About Sharon Sampson
In her 38 year career, Emmy-nominated Sharon Sampson has worn every hat in Hollywood's costuming industry. Her resume includes Cheers, Family Ties, Westworld, Glow, and Mrs. Davis, Costume Designing Becker and feature films Drop Dead and LA Blues. Her unparalleled understanding of the costuming process and seamless understanding of the various roles within the costume department makes her an expert resource for those wishing to gain employment within this rewarding industry.